Our medication prices already include shipping costs. Each delivery is packaged discreetly for complete privacy.
When your order is approved, it is promptly processed and shipped to you for fast delivery. You will also be emailed a tracking number that you can use to track delivery at the delivery provider's website. So you can keep track of your order and shipment at every stage.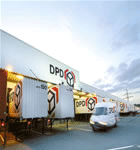 Orders from customers in the UK are shipped via DPD for 24 hour delivery.
Outside of the UK, orders are shipped by a variety of top-tier international carriers icluding UPS, FedEx, and TNT. Here is a handy guide for our non-UK patients to let you know when to expect delivery.
Not all countries accept deliveries of prescription drugs from overseas. The U.S. is one of these so we regret that we cannot accept registration of patients from the US. It is the buyer's responsibility to know their country's laws concerning the receipt of prescription drugs by mail from overseas. Unaccepted or failed deliveries are not eligible for refund.
In the event your package is returned to us, unfortunately, we will not be able to process a refund due to the fact the shipped medicine cannot be accepted back into our pharmacy.
Within a few countries only certain credit & debit cards are processed by our bank. If your country applies to this process, electronic wire will be the only method of payment accepted. Please accept our apologies.